Oregon Trifecta 2005
Wednesday, June 1
I reported a few months ago that the Oregon Trifecta may be coming to Burnside. Well, it's now been changed to Newberg.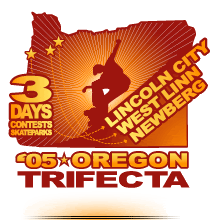 I'll give more details soon, but I just wanted to get this bit of info out there. And make sure you come back often as I have a whole slew of updates to bring you in the coming weeks now that winter has passed and the weather is becoming more cooperative.
That's it. Go skate!
6/01/2005 12:05:00 PM ::


::
<< Home